We are happy to announce the release of the Go Crew 4.8.
It was a long work and hopefully will help more people than before.
More secure, fast, awesome design, easy to use, very user-friendly.
We have also a new website, you can check it out here: https://go-crew.com
??? Go Crew 4.8 Version OUT NOW ???
Release notes:
New map design
Joining/Leaving a crew is available only by one tap on the radio button (Crews TAB)
Website updated design
App design updated (side-menu, TABs on the bottom, blue color design, new logo, new navigation design)
Only premium users will be able to create new Crews
New authentication with Google, Facebook, E-mail or Anonymous.
Very user-friendly and easy to use.
New starting screen
Motion or the arrow improved
Share your location with a link.
Back buttons added to the top
Profile picture selected from your social media profile
Target to latest Android API so it is legit and up-to-google-standards.
Improvements:
GPS arrow movement is smoother than ever.
View position is customizable
Invite someone to your crew (improved)
Improved Go Premium message
Crew Tab includes a check button for an easier user experience to join a crew.
Creating events
Tips added at first start

Now maybe you have some questions regarding your profile or your crews.
Because we are using now a safer and faster authentication, you will have to create
a new account by signing up with your E-mail, Google or Facebook account or just
simply as anonymous. The old one will not be available anymore.
Now the existing crews/groups that were created will still be there, and you can join anytime.
After the update, if you are using the Free Version you won't be able to create any more new crews.
Only Premium users will have access to this feature.
We are happy that you stayed with us this long and we hope you will enjoy our new version of Go Crew 4.8
If you have any question or feedback, don't hesitate to drop us a line at info@go-crew.com.
For more Help, you can read our FAQ page: https://go-crew.com/faq-frequently-asked-questions-help/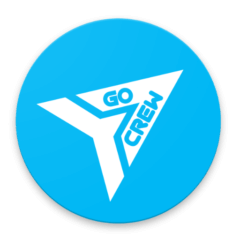 best regards,
Go Crew Team
You may also like:
Our story and how it all started ?
??? Go Crew 4.8 Version OUT NOW ???