New
Top bar background for profile details & crew details

Gradle updated to latest version 7.0.2

Blue circle call to action button moved to Map screen
My Crews list dropdown was moved on Map screen
New navigation icons added: Batmobil, ghostbusters car Ecto-1, Ghost icon added

Removed the TAB menu from the bottom.
Crews  TAB page removed to a separate screen and can be accessed in the menu.
Account menu item removed and editing your account can be done by tapping your picture or name in the main menu.
Weather & location info page moved to Map page and can be accessed by tapping on the speed widget.

Spotify remove from main menu
The dropdown list containing  the current users online was removed and replaced with the dropdown joined crews list.
Bugfixes
Creating Events save

toolbar (

button

 

disappearing) – f

ixed

Limited number of crews a users can create for free – fixed
P

op up dialog box when joining / leaving a crew

on

crews page

– Replaced

D

elet

ing

profile

exit process – fixed

Fixed the loading ads

(Free version)

Changed

 when

is the app

asking

for GPS permissions

Pictures path changed

from ext

ernal

storage

to int

ernal

storage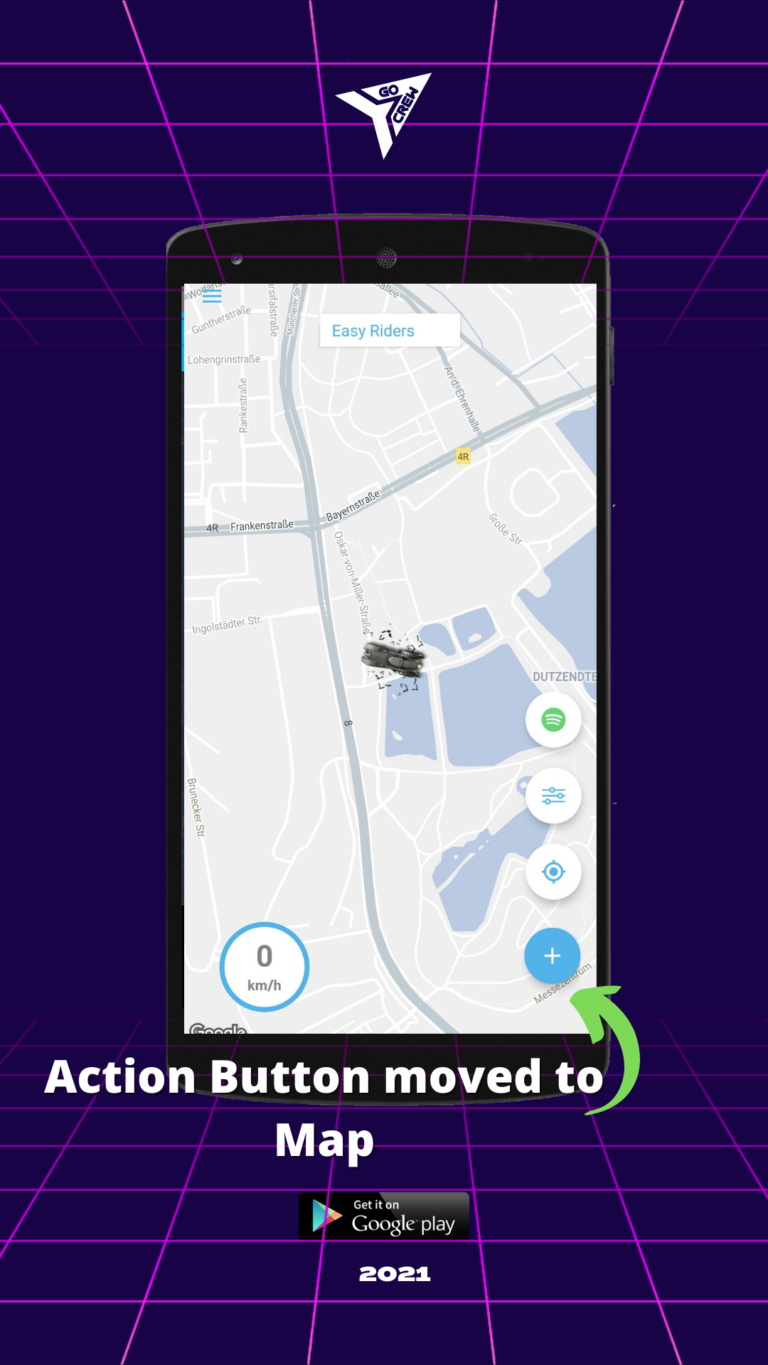 TAB menu removed

Action button moved to map

Selected crew drop down moved to maps top center

Crews button moved to main menu
•
•
•
•
•
#app #appdesign #android #mobileapp #appstore #ux #ui #mobile #userinterface #webdesign #apps # #userexperience #application #interface #parks #dribbble #mercari #uidesign #nationalparks #travelguide #iconosquare #freestuff #programming #webdesigner #androidapp #flat #logoinspirations #website #googleplay #cellphone # #samsung #photography #phone # #smartphone #mobile #technology #android #xiaomi #art #photo #tech #celular #instagram #instagood #photooftheday #huawei #cellphonephotography #mobilephone #love #cellphonecase #electronics #accessories #cellphones #celulares #fotografia #nature #cell #trail #trailrunning #hike #trails #trailrun #hiker #trailrunner #hiking #mtb #creek #arcteryx #enduro #thenorthface #outdoorresearch #instarunners #tent #running #run #rei #runner #skiing #trilha #gear #runners #trout #camp #mountainbike #patagonia #ski #trekking #google #googleandroid #instandroid #instaandroid #instadroid #androidonly #androidinstagram #ics #androidcommunity #teamdroid #androidnesia #droid #androidographer #teamandroid #jellybean #androidography #smartphone #samsunggalaxys2 #samsunggalaxy #android #mobile #phone #samsung #tablet #download #freepalestine #seo #facebook #android # #androidonly #smartphone #instandroid #instadroid #instaandroid #androidcommunity #googleandroid #droid #androidnesia #teamandroid #androidinstagram #teamdroid #androidographer #ics #phone #mobile #androidography #jellybean #google #samsung #samsunggalaxy #samsunggalaxys2 #app #apps #tech #appstore #appdesign#android # #androidonly #smartphone #instandroid #instadroid #instaandroid #androidcommunity #googleandroid #droid #androidnesia #teamandroid #androidinstagram #teamdroid #androidographer #ics #phone #mobile #androidography #jellybean #google #samsung #samsunggalaxy #samsunggalaxys2 #app #apps #tech #appstore # #appdesig